How we built this amazing Virtual Reality platform for an Oil and Gas client
Virtual reality is supposedly revolutionising the business world. But maybe you're like one of the many professionals who are thinking…"REALLY???"
So, I thought it would be best to show you a brilliant example of how one of our clients,Tokheim, is using VR to create virtual worlds where their customers can not only design bespoke fuel dispensers and forecourts, but then take a walkthrough their new station in a virtual experience.
Here's a step-by-step guide as to how it works:
First, add a forecourt layout and choose from a wide selection of equipment configurations around the petrol station

Dozens of additional items can be positioned like crash barriers, vehicles, pole signs and advertising boards

The equipment can then be branded in the chosen livery

Once the station is ready you simply hit the VR button, put on the oculus rift headset and explore

You can walk around your forecourt, complete with shiny new equipment, and enter the fully equipped convenience store. Every detail right down to the shelving in the back-office is included for an immersive experience
A bit about Tokheim and their products
Tokheim is a global manufacturer of equipment and software solutions for service stations. They wanted their customers to be able to choose from a variety of fuel dispensers in different liveries, with multiple options on payment terminals and media. After the station was built, they wanted to then bring their customers on an immersive ride to explore their new station.
How we built the environment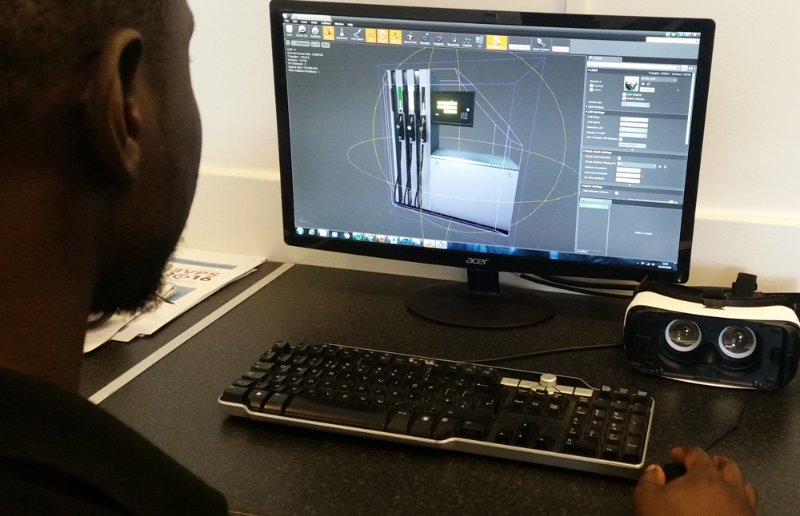 It took us over just 8 weeks to build this virtual reality app for Tokheim. Bespoke 3-D objects and designs were created from AutoCAD files or simple jpeg images if no detailed files existed. Next,Olive's VR team brought the 3-D objects into an advanced, virtual gaming engine called Unreal. Tokheim now successfully uses the platform at industry events, in its showrooms and in sales presentations.
Watch the video of it in action
07/07/2016
See all posts